1.14K Views0 Comments0 Likes
We were horrified to find this rat had crawled up the sewer into our toilet. Fortunately Rascal was there to take care of it for us !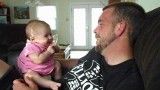 988 Views0 Comments0 Likes
This cute baby girl in pink is just 2 months old. Sitting on the knees of her daddy she tries to speak words and finally manages to say her dad : I love you. Definitely the cutest first words ever !