516 Views0 Comments0 Likes
A group of dangerous puppies go into attack mode ! I wouldn't want to mess with those little guys ;)
935 Views0 Comments0 Likes
This black kitten is so sad
1.54K Views0 Comments0 Likes
Look at this cute little cat : he meets a baby for the first time and gives him a sweet hug. So cute !
606 Views0 Comments0 Likes
A russian kid teases cat and ... the cat attacks back the child !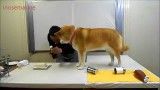 807 Views0 Comments0 Likes
This korean chef is trying to make a recipe. We're sure he's talented and could make it tasteful ... if not for his cute and very participative dog. Cooking with your dog mitght sound fun but it's harder than it looks !