410 Views0 Comments0 Likes
My five-and-a-half-month old son Emerson isn't sure what to think when I blow my nose. Sometimes he's terrified, then he can't stop laughing.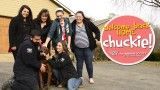 697 Views0 Comments0 Likes
The Humane Society of the United States rescued 166 dogs and cats from a clandestine farm. Among the sick and injured animals there was a big Labrador attached near the entrance of the property. As the protocol requi...