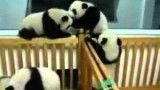 1.03K Views0 Comments0 Likes
Cute baby Panda fights in the streets of Chengdu in China.
685 Views0 Comments0 Likes
A crazy dog mercilessly attacks the mail : Bubbles is a Shih Tzu that seems normal enough as it waits outside the mail slot, squeaky toy held patiently in mouth. But signs of crazy start to show when the silhouette ...