893 Views0 Comments0 Likes
It is a drop of orange orchid Ho baby. In the circle for the first time, I'm playing born healthy. The last rush to the camera !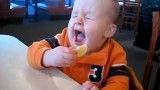 766 Views0 Comments0 Likes
Chances are you don't remember your first taste of lemon, but nowadays, parents are capturing such moments for posterity and sharing them all over YouTube.