639 Views0 Comments0 Likes
8-month-old Micah (a boy) laughing hysterically while at-home daddy rips up a job rejection letter.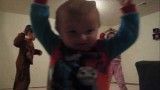 1.29K Views0 Comments0 Likes
Titus is an kid who is definitely gifted with basketball : he is only 18 monthes and manages amazing shots, up to 7 in a row ! We just found Michael Jordan's Spiritual son.