957 Views0 Comments0 Likes
This baby and this kitten are the cutest twins ever.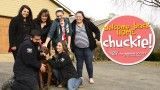 1.34K Views0 Comments0 Likes
The Humane Society of the United States rescued 166 dogs and cats from a clandestine farm. Among the sick and injured animals there was a big Labrador attached near the entrance of the property. As the protocol requi...