542 Views0 Comments0 Likes
This automatic food dispenser was supposed to help alleviate some of the cat's anxiety about meal time, but as you can see, it hasn't exactly helped the cat relax much yet.
864 Views0 Comments0 Likes
Copper who is a Cream Tabby Persian seemed to do the kitten dance or maybe it was the Kitten Strut. He was playing cutesy and performing for me.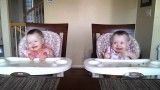 1.50K Views0 Comments0 Likes
These two lovely twins are 11 monthes dans when their dad starts to play the guitar they stop anything they were doing for dancing in rythm :) So cute !
644 Views0 Comments0 Likes
Q: Do Tigers, Leopards & Lions chase laser pointers like domestic cats ? Big Cat Rescue decided to find out !
1.31K Views0 Comments0 Likes
Cats are domesticated animals but they have been observing us for a very very very long time end here is the scary proof : they can behave like us !