765 Views0 Comments0 Likes
CatNel No. 5: The timeless scent for the classically cute cat.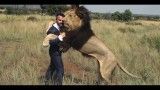 1.42K Views0 Comments0 Likes
Kevin Richardson has build an incredible relationship with a family of Lions. Their bonds are so strong that the Lions hug him when he calls them, and they can even play Football all toghether. Just amazing !