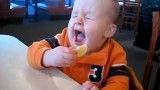 766 Views0 Comments0 Likes
Chances are you don't remember your first taste of lemon, but nowadays, parents are capturing such moments for posterity and sharing them all over YouTube.
685 Views0 Comments0 Likes
We got Annie from the cat rescue mission as a kitten. She liked to play in a pot. Trouble was she got fat as she got older but still likes to try and get in the pot. Please note she happily hopes in and out of the pot...