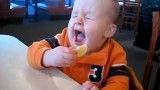 767 Views0 Comments0 Likes
Chances are you don't remember your first taste of lemon, but nowadays, parents are capturing such moments for posterity and sharing them all over YouTube.
922 Views0 Comments0 Likes
You really have to give this cat credit for being so patient. That little puppy just can't get enough of him !