683 Views0 Comments0 Likes
A crazy dog mercilessly attacks the mail : Bubbles is a Shih Tzu that seems normal enough as it waits outside the mail slot, squeaky toy held patiently in mouth. But signs of crazy start to show when the silhouette ...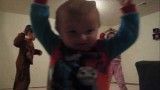 1.55K Views0 Comments0 Likes
Titus is an kid who is definitely gifted with basketball : he is only 18 monthes and manages amazing shots, up to 7 in a row ! We just found Michael Jordan's Spiritual son.
636 Views0 Comments0 Likes
Trish Wimberley looks after hundreds of orphaned baby bats and rears them until they can be released into the wild. It's a tireless, never ending job which keeps her awake all hours (she apparently went 3 nights wi...
615 Views0 Comments0 Likes
813 Views0 Comments0 Likes
This cat is cleaning the room with a robot. But the dog does not agree...