897 Views0 Comments0 Likes
You really have to give this cat credit for being so patient. That little puppy just can't get enough of him !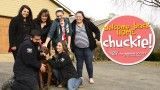 1.31K Views0 Comments0 Likes
The Humane Society of the United States rescued 166 dogs and cats from a clandestine farm. Among the sick and injured animals there was a big Labrador attached near the entrance of the property. As the protocol requi...