815 Views0 Comments0 Likes
TwoFace the kitten stole the dogs big piece of meat and she didnt want to give it back. TwoFace the kitten goes OFF !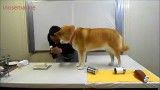 846 Views0 Comments0 Likes
This korean chef is trying to make a recipe. We're sure he's talented and could make it tasteful ... if not for his cute and very participative dog. Cooking with your dog mitght sound fun but it's harder than it looks !