2.18K Views0 Comments0 Likes
This japanese baby and his cat a close friends. Seeing them cudle each other is the sweetest thing ever <3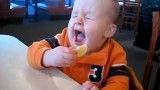 738 Views0 Comments0 Likes
Chances are you don't remember your first taste of lemon, but nowadays, parents are capturing such moments for posterity and sharing them all over YouTube.
698 Views0 Comments0 Likes
These 2 french cats are playing and dancing together. So funny !
773 Views0 Comments0 Likes
The Jedi Kittens are striking back with with an action packed adventure. Who can resist the X-Wing and Tie Fighting kittens ?
943 Views0 Comments0 Likes
This baby and this kitten are the cutest twins ever.