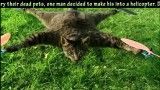 1.09K Views0 Comments0 Likes
There's something that doesn't just seem quite right about stuffing a dead cat and turning it into a remote-controlled flying helicopter. Dutch artist Bart Jansen has done just that and debuted his creation, the "Orv...
791 Views0 Comments0 Likes
Douglas is an orphaned Wombat who was taken care of at a school camp
797 Views0 Comments0 Likes
CatNel No. 5: The timeless scent for the classically cute cat.
684 Views0 Comments0 Likes
These adorable Persian kittens just learned how to eat on their own, but they are still bothering their mother for milk. These kitties are super cute and funny!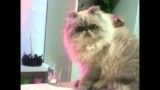 1.84K Views0 Comments0 Likes
This cute cat loves to throw things down from the table. It first throws down a remote control and next wants to throw a candle too. The problem ? The candle is inside a glass and might broke if it falls down. He...