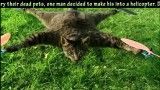 1.04K Views0 Comments0 Likes
There's something that doesn't just seem quite right about stuffing a dead cat and turning it into a remote-controlled flying helicopter. Dutch artist Bart Jansen has done just that and debuted his creation, the "Orv...
1.29K Views0 Comments0 Likes
This black kitten is so sad
642 Views0 Comments0 Likes
A video from the french supermarket Monoprix where kids asks for decent presents to Santa Klaus
499 Views0 Comments0 Likes
Lolcat art Gallery hosts exhibition of video cat phenomenon video. An exhibition has opened in London devoted to the online phenomenon of cats doing funny things, known as "lolcats". It is the first of its kind i...
598 Views0 Comments0 Likes