540 Views0 Comments0 Likes
This automatic food dispenser was supposed to help alleviate some of the cat's anxiety about meal time, but as you can see, it hasn't exactly helped the cat relax much yet.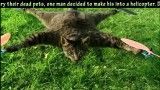 1.09K Views0 Comments0 Likes
There's something that doesn't just seem quite right about stuffing a dead cat and turning it into a remote-controlled flying helicopter. Dutch artist Bart Jansen has done just that and debuted his creation, the "Orv...
963 Views0 Comments0 Likes
One of the world's most popular cats, Japanese megastar Maru, a male Scottish Fold.
497 Views0 Comments0 Likes
955 Views0 Comments0 Likes
A nice LOL Cats compilation