634 Views0 Comments0 Likes
A demanding cat goes to great lengths in order to warm up and become the centre of attention.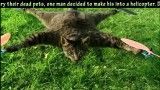 1.09K Views0 Comments0 Likes
There's something that doesn't just seem quite right about stuffing a dead cat and turning it into a remote-controlled flying helicopter. Dutch artist Bart Jansen has done just that and debuted his creation, the "Orv...