542 Views0 Comments0 Likes
This automatic food dispenser was supposed to help alleviate some of the cat's anxiety about meal time, but as you can see, it hasn't exactly helped the cat relax much yet.
821 Views0 Comments0 Likes
The Jedi Kittens are striking back with with an action packed adventure. Who can resist the X-Wing and Tie Fighting kittens ?
769 Views0 Comments0 Likes
Snowflake the cat pulls back the hand of his master every time he tries to get it out. So careful !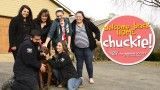 1.53K Views0 Comments0 Likes
The Humane Society of the United States rescued 166 dogs and cats from a clandestine farm. Among the sick and injured animals there was a big Labrador attached near the entrance of the property. As the protocol requi...
1.21K Views0 Comments0 Likes
Cat sitting relaxed like a human