957 Views0 Comments0 Likes
This baby and this kitten are the cutest twins ever.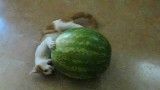 656 Views0 Comments0 Likes
Cute 4 month old kitten named Flanigan attacks a watermelon. The watermelon had scratches and bite marks all over it by the time kitty was done. Flanigan walked away from the battle unscathed. He's a funny cat.