Baby And Goat Have An Interesting Conversation
697
633 Views0 Comments0 Likes
A golden eagle tries to snatch a baby in Montreal ! What if he got away with it !?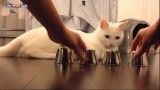 2.53K Views0 Comments0 Likes
We just found the most clever cat in the world : he can find a ball under a cap better than you and me. Just amazing !!!