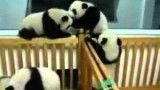 926 Views1 Comments0 Likes
Cute baby Panda fights in the streets of Chengdu in China.
1.24K Views0 Comments0 Likes
First time Arnie (beagle) meets lil baby Trey :)
589 Views0 Comments0 Likes
They say the culture of each generation becomes immortalized for the next. It seems that one of those cultural bits for our generation will be the LOLCat phenomenon. Because once a gallery of LOLCat-based fine art ope...
1.20K Views0 Comments0 Likes
Cats are domesticated animals but they have been observing us for a very very very long time end here is the scary proof : they can behave like us !
1.06K Views0 Comments0 Likes
To avoid being bitten and pounced on during kitty training, we have been using chopsticks and toothpicks to feed the kittens their treat.