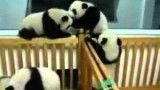 846 Views1 Comments0 Likes
Cute baby Panda fights in the streets of Chengdu in China.
422 Views0 Comments0 Likes
My five-and-a-half-month old son Emerson isn't sure what to think when I blow my nose. Sometimes he's terrified, then he can't stop laughing.
1.07K Views0 Comments0 Likes
Cats are domesticated animals but they have been observing us for a very very very long time end here is the scary proof : they can behave like us !
925 Views0 Comments0 Likes
Baby rabbit is about one month old. I'm coming cutie licking and almost always held out his hand.
459 Views0 Comments0 Likes
Goldfish Style, a Gangnam Style Petody by The Pet Collective