608 Views0 Comments0 Likes
8-month-old Micah (a boy) laughing hysterically while at-home daddy rips up a job rejection letter.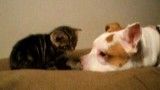 548 Views0 Comments0 Likes
In this foster home, all the bullies know the cats are boss ! But this pretty pit girl just uses her motherly instincts and treats the baby kittens like they are her own.