460 Views0 Comments0 Likes
And here's what it sounds like if you have your babel fish in your ear translating for you.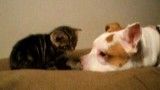 496 Views0 Comments0 Likes
In this foster home, all the bullies know the cats are boss ! But this pretty pit girl just uses her motherly instincts and treats the baby kittens like they are her own.