698 Views0 Comments0 Likes
A persistent cat helps Simon finish his work.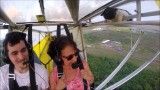 1.55K Views0 Comments0 Likes
Two people were having a standard flight in an ultra light plane when they realized ... a cat was still hidden inside one of the plane wings ! As you can see the cute animal was not scared at all and even enjoyed the...