1.63K Views0 Comments0 Likes
We were horrified to find this rat had crawled up the sewer into our toilet. Fortunately Rascal was there to take care of it for us !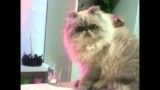 1.84K Views0 Comments0 Likes
This cute cat loves to throw things down from the table. It first throws down a remote control and next wants to throw a candle too. The problem ? The candle is inside a glass and might broke if it falls down. He...