1.34K Views0 Comments0 Likes
We were horrified to find this rat had crawled up the sewer into our toilet. Fortunately Rascal was there to take care of it for us !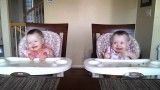 1.00K Views0 Comments0 Likes
These two lovely twins are 11 monthes dans when their dad starts to play the guitar they stop anything they were doing for dancing in rythm :) So cute !