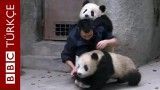 1.16K Views0 Comments0 Likes
This veterinarian tries to vaccinate 2 baby Pandas, but the two kids only want to play and one is climbing on his head while the other one tries to grab his legs. So cute and so funny :)
1.31K Views0 Comments0 Likes
I am talking cat. kind of you to depress orange button for subscribing. sending my moving picture to your family would be high honor for me. i our very cute kitten so much to be ever in your life? very pleaseing to ey...
626 Views0 Comments0 Likes
A playful dog interrupts a cat's down-time.
1.08K Views0 Comments0 Likes
This Bear is very friendly
681 Views0 Comments0 Likes
Sliding cats are so funny