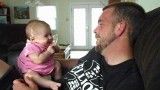 1.20K Views0 Comments0 Likes
This cute baby girl in pink is just 2 months old. Sitting on the knees of her daddy she tries to speak words and finally manages to say her dad : I love you. Definitely the cutest first words ever !
599 Views0 Comments0 Likes
LOL Rabbits are back
1.25K Views0 Comments0 Likes
First time Arnie (beagle) meets lil baby Trey :)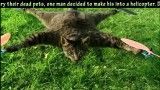 949 Views0 Comments0 Likes
There's something that doesn't just seem quite right about stuffing a dead cat and turning it into a remote-controlled flying helicopter. Dutch artist Bart Jansen has done just that and debuted his creation, the "Orv...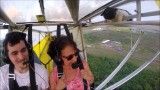 1.25K Views0 Comments0 Likes
Two people were having a standard flight in an ultra light plane when they realized ... a cat was still hidden inside one of the plane wings ! As you can see the cute animal was not scared at all and even enjoyed the...