605 Views0 Comments0 Likes
A golden eagle tries to snatch a baby in Montreal ! What if he got away with it !?
629 Views0 Comments0 Likes
To stay on top of the ever-changing advertising landscape, john st. has opened the world's first cat video division. With production, filming and seeding all in-house. Ask yourself, what can cat videos do for your...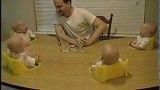 1.58K Views0 Comments0 Likes
Quadruplet babies are laughing with their daddy :)
510 Views0 Comments0 Likes
Cats will dominate the web
740 Views0 Comments0 Likes
This will not be easy trust me ;)