784 Views0 Comments0 Likes
To get a better vantage point, this cat does not hesitate to put on two legs, and it seems to be more at ease ...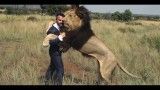 1.55K Views0 Comments0 Likes
Kevin Richardson has build an incredible relationship with a family of Lions. Their bonds are so strong that the Lions hug him when he calls them, and they can even play Football all toghether. Just amazing !