512 Views0 Comments0 Likes
And here's what it sounds like if you have your babel fish in your ear translating for you.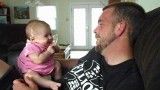 1.13K Views0 Comments0 Likes
This cute baby girl in pink is just 2 months old. Sitting on the knees of her daddy she tries to speak words and finally manages to say her dad : I love you. Definitely the cutest first words ever !