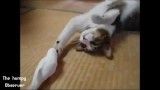 1.57K Views0 Comments0 Likes
Discover on a magical music some of the cutest baby animals in the world : kitten, hedgehogs, howls, rabbits and much more. Which one is your favorite ?
574 Views0 Comments0 Likes
To stay on top of the ever-changing advertising landscape, john st. has opened the world's first cat video division. With production, filming and seeding all in-house. Ask yourself, what can cat videos do for your...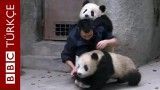 1.02K Views0 Comments0 Likes
This veterinarian tries to vaccinate 2 baby Pandas, but the two kids only want to play and one is climbing on his head while the other one tries to grab his legs. So cute and so funny :)
596 Views0 Comments0 Likes
These adorable Persian kittens just learned how to eat on their own, but they are still bothering their mother for milk. These kitties are super cute and funny!
717 Views0 Comments0 Likes
For the impatient and in humble homage to the wonderful and delightful Maru, some highlights of Maru's antics. TURN ON ANNOTATIONS ;)