1.21K Views0 Comments0 Likes
Take a look this impressive animals playing dead. Which one you'd nominate for an animal Oscar ?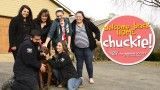 1.44K Views0 Comments0 Likes
The Humane Society of the United States rescued 166 dogs and cats from a clandestine farm. Among the sick and injured animals there was a big Labrador attached near the entrance of the property. As the protocol requi...