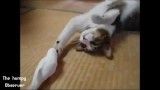 1.79K Views0 Comments0 Likes
Discover on a magical music some of the cutest baby animals in the world : kitten, hedgehogs, howls, rabbits and much more. Which one is your favorite ?
519 Views0 Comments0 Likes
Lolcat art Gallery hosts exhibition of video cat phenomenon video. An exhibition has opened in London devoted to the online phenomenon of cats doing funny things, known as "lolcats". It is the first of its kind i...
824 Views0 Comments0 Likes
Don't be fooled by their cuteness because these are really some crazy Jedi Kittens.
1.06K Views0 Comments0 Likes
My Dog Jecht Loves his country. Here displaying his new hair cut !
1.16K Views0 Comments0 Likes
Stalking Cat