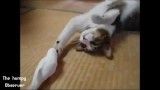 1.50K Views0 Comments0 Likes
Discover on a magical music some of the cutest baby animals in the world : kitten, hedgehogs, howls, rabbits and much more. Which one is your favorite ?
584 Views0 Comments0 Likes
Cats Try to Understand Treadmill, but they really don't get it
550 Views1 Comments0 Likes
Here are some of the funniest collection of cat videos
617 Views0 Comments0 Likes
They say the culture of each generation becomes immortalized for the next. It seems that one of those cultural bits for our generation will be the LOLCat phenomenon. Because once a gallery of LOLCat-based fine art ope...
1.08K Views0 Comments0 Likes
Shots of a cat with its mouth opened