453 Views0 Comments0 Likes
This is Frida, a cat from Berlin. She's a gambler and she's good at the shell game. 2 of third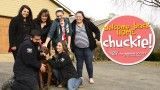 728 Views0 Comments0 Likes
The Humane Society of the United States rescued 166 dogs and cats from a clandestine farm. Among the sick and injured animals there was a big Labrador attached near the entrance of the property. As the protocol requi...
453 Views0 Comments0 Likes
This is Frida, a cat from Berlin. She's a gambler and she's good at the shell game. 2 of third
504 Views0 Comments0 Likes
We got Annie from the cat rescue mission as a kitten. She liked to play in a pot. Trouble was she got fat as she got older but still likes to try and get in the pot. Please note she happily hopes in and out of the pot...