658 Views0 Comments0 Likes
A hungry cat scales new heights in search of supper.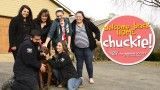 1.25K Views0 Comments0 Likes
The Humane Society of the United States rescued 166 dogs and cats from a clandestine farm. Among the sick and injured animals there was a big Labrador attached near the entrance of the property. As the protocol requi...