1.01K Views0 Comments0 Likes
What happens when you let a frog play with your smartphone ?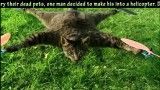 1.05K Views0 Comments0 Likes
There's something that doesn't just seem quite right about stuffing a dead cat and turning it into a remote-controlled flying helicopter. Dutch artist Bart Jansen has done just that and debuted his creation, the "Orv...