1.02K Views0 Comments0 Likes
What happens when you let a frog play with your smartphone ?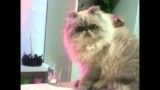 1.78K Views0 Comments0 Likes
This cute cat loves to throw things down from the table. It first throws down a remote control and next wants to throw a candle too. The problem ? The candle is inside a glass and might broke if it falls down. He...